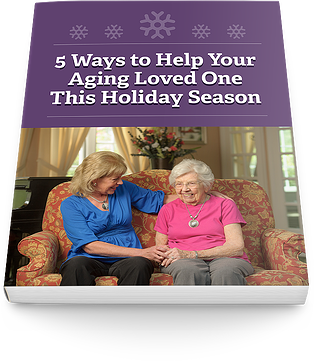 For many of us, Thanksgiving is the start of a wonderful holiday season that we celebrate through the New Year. For others, it can be an overwhelming time, particularly for older adults.
Holidays bring with them fond memories but they can be bittersweet. With memories of joy come reminders of loss, especially the loss of loved ones. Your or your loved one may be mourning the loss of a spouse or other close relative.....others may mourn the loss of their physical abilities and focus on what they cannot do during the holidays.
What can you do as a caregiver to help?
One of the most important things you can do is slow down the pace and meet your loved one where they are at, emotionally. The holidays can be very stressful with shopping, cooking, cleaning, sending out cards, and other tasks. Be sure you to resist placing the stress you feel onto your loved one.
Our 5 tips will help you make the holiday season more enjoyable for you and your loved one.
In this eBook you will learn how to:
Celebrate holiday memories
Start new holiday traditions
Pay special attention to the needs of your loved one
Understand anxiety surrounding the holidays
Help your loved one cope with loss
Get a free copy today and make the holiday season a bit more enjoyable for you and your loved one!