When was the last time you enjoyed a meaningful visit with your aging loved one?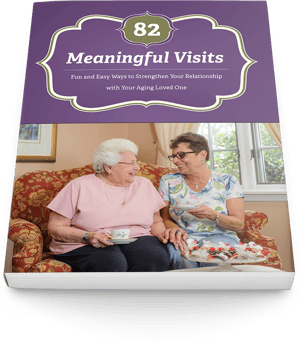 As a caregiver, many "visits" with your loved one are filled with tasks and to-do lists that are waiting for your attention.
Driving to doctor's appointments, grocery shopping, paying bills, or helping your loved one with household chores can be stressful, hurried visits that don't allow time for meaningful connections with your loved one.
While these tasks and to-do lists are important and worthy of your attention, it is also important to slow down and take some time to enjoy a meaningful visit with your family member.
A meaningful visit is the kind of visit that puts a smile on your face (and your loved one's) as you leave; it is a visit that builds memories, strengthens relationships, and awakens gratitude for the love that you share with your family member.
This guide is filled with great ideas for enjoying meaningful visits with your family members. Whether your loved one lives with you in your home, alone in their own home, in an assisted living community, or in any other living arrangement, these ideas can be easily utilized and enjoyed just about anywhere, anytime. Some of the topics covered in this eBook include:
Preserving Family Legacies
Spirituality
Health & Well-Being
Fun with Food
Enjoying the Arts
Created with caregivers and families in mind, we invite you to use this fun and easy resource to strengthen relationships with your aging loved ones.
Download it today by filling out the form on the right.