Get award-winning, innovative care for your loved one...

Tucked away behind the UCONN Health Center, Middlewoods of Farmington is an award-winning independent and assisted living community where residents live life to the fullest, family and friends are welcome, and the staff comes to work wanting to build strong, caring relationships.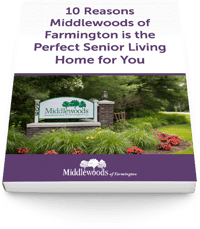 There are infinite reasons to make Middlewoods of Farmington your home, but in this FREE GUIDE, we will highlight the top 10 including:
Our home-like environment designed to meet your needs
Easy access to medical care through our affiliation with the UConn Health Center

Tons of activities and events to enjoy and opportunities for volunteering
Delicious and nutritious meals every single day
...and more!
Discover why Middlewoods of Farmington could be your aging loved one's new home - or perhaps your own!
Fill out the form for FREE INSTANT ACCESS to your guide " 10 Reasons Middlewoods of Farmington is the Perfect Senior Living Home For You."