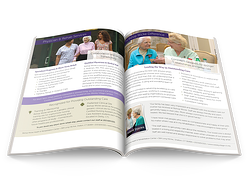 Bishop Wicke Health and Rehabilitation Center works in partnership with area hospitals, physicians, and home care agencies.
We are an award-winning short-term rehabilitation and skilled nursing center and have been voted a "Top Nursing Home" by U.S News and World Report!
In our brochure you'll find information on our amenities and personalized caregiving:
Physician and Rehab Services
Outpatient Therapy and Fitness programs
Wellness Center
Palliative Rehab and Hospice Care
Complete the form to the right to download your brochure.